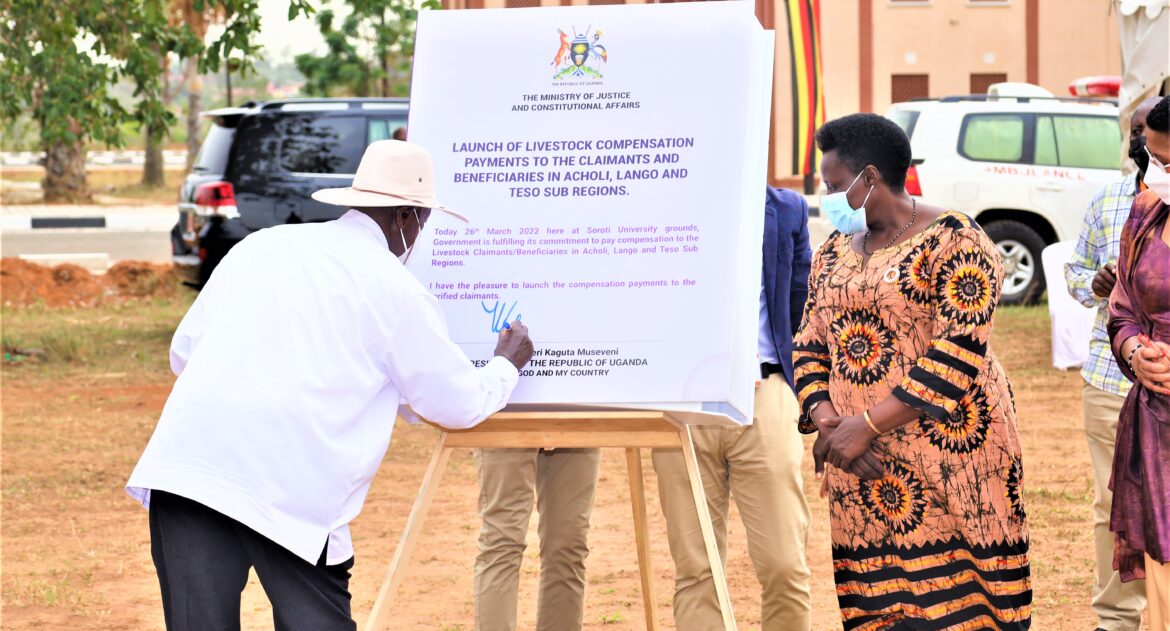 H.E the President, Yoweri Kaguta Museveni, launched the payments to verified compensation claimants and beneficiaries from Acholi, Lango and Teso Sub regions.
The function at Soroti University grounds in Soroti City, was attended by many dignitaries who included H.E the Vice President Jessica Alupo, the Rt. Hon Speaker Anita Among, Cabinet Ministers among them, Hon. Acting Minister of Justice and Constitutional Affairs (MoJCA) Muruuli Wilson Mukasa and Hon Attorney General, Kiryowa Kiwanuka.
In his speech, the President advised the claimants and beneficiaries to avoid wasting the money they shall receive by marrying more women, but to invest it in commercial agriculture ventures that shall improve their house hold incomes.
He gave an example of a 4-acre land model farm, and encouraged growing food crops, cash crops like citrus fruits, zero grazing of Friesian cows etc.
The Deputy attorney General, Hon. Jackson Kafuuzi, who spoke on behalf of the Ministry, gave a brief on the genesis of the compensation claims, that arose out of the various insurgencies starting with from the 1979 liberation war, that ravaged Northern and Eastern Uganda, adversely impacting the local economies and livelihoods of the populace there.
In December, 2003, the livestock claimants and beneficiaries from the Regions affected the insurgencies, instituted multiple law suits in the High Court, Gulu in respect of claims arising from Acholi Sub Region, the High Court, Lira in respect of claims arising from Lango Sub Region and the High Court, Soroti in respect of claims arising from Teso Sub Region in which they sought to recover compensation from Government for their lost livestock. An Inter-Ministerial Verification Committee was constituted to verify, evaluate and confirm claims of genuine livestock claimants/beneficiaries from the affected Sub Regions. Its report was submitted to the President in 2016 and had a total of 92, 652 claimants from the three sub regions.
In the Financial Year 2021/22, MoJCA received UGX Shs 50 billion in respect of compensation for the war debt claimants. The Total number of the submissions received to date stands at 19,667claimants/beneficiaries. The fund available have been prorated per region based on the number of districts therein with each District having an allocation of 1,724,137,931
HE the president closed the function by signing the ceremonial launch Pad and handing over Dummy checks to selected beneficiaries.