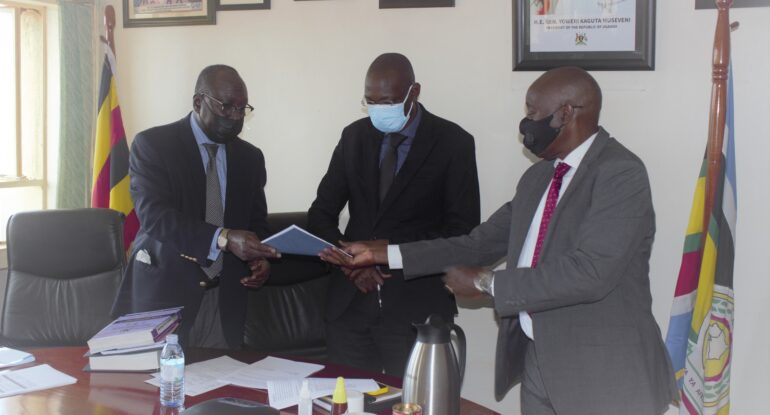 During the recent changes and appointments made by the President, the Ministry of Justice received its first ever appointment of a Permanent Secretary.  Mr Robert Kasande, was transferred from the Ministry of Energy and Mineral Development to Ministry of Justice and Constitutional Affairs.
At a mini ceremony held in the Ministry boardroom, Mr Francis Atoke, the Solicitor General who also held the office of Permanent Secretary, handed over that administrative role to the new PS, Mr Robert Kasande.
In his speech, Francis Atoke the Solicitor General, thanked the appointing authority for the time he served as Permanent Secretary of the Ministry of Justice and also thanked the staff for the support given to him through the years as the head of the team and Accounting Officer.
And on his part, Mr Robert Kasande said rather shockingly that it would be his first time to work outside the Ministry of Energy where he had risen in ranks from a geologist to Permanent Secretary. He promised to do his utmost best to improve staff welfare and make the working conditions at the Ministry conducive for all staff. He emphasised an open-door policy where staff can easily approach him for consultation on any challenge they might have.
He concluded by calling upon all and sundry to support him through his work and tenure for the good of the country.