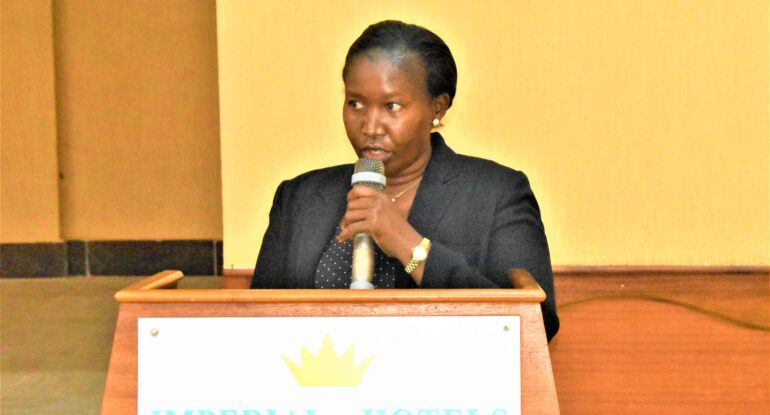 The Workshop was organized by the Directorate of First Parliamentary Counsel (FPC), with the overall objective to sensitise and build capacity of MDAs on the development of policy and the legislative process in Uganda.
Participants included: representatives from the Office of the President, Cabinet Secretariat, Ministry of Defence, the Uganda Law Reform Commission and the Ministries of: Internal Affairs, Public Service, Trade, Industry and Cooperatives, Finance, Planning and Economic Development, ICT and National Guidance, Tourism and Antiquities, East African Community Affairs.
The Director FPC, Mrs Harriet Lwabi, in her opening remarks, welcomed the participants and appreciated them for honouring the invitation. She noted that FPC is responsible for drafting legislation for Government.
She further noted that drafting legislation involves numerous procedures, which at times, appear to delay drafting, thus resulting in development of private members bills in some cases.
The procedures have also led to frustrations in the case of local governments due to delays. She urged the participants to guide on how to reduce the procedures to ensure that work is handled expeditiously without compromising on quality.
The Permanent Secretary, Mr Robert Kasande, thanked participants for honouring the invitation, especially those who were able to make it on time. He noted that the Workshop was organised by the Ministry of Justice and Constitutional Affairs, Directorate of First Parliamentary Counsel with the overall objective of sensitising MDAs on the development of policy and legislative process in Uganda. He observed that there is generally limited capacity among MDAs in developing policy and drafting legislation which necessitated the training.
He highlighted some of the challenges that MDAs face in making policy and legislative proposals which affect not only how fast but also how well the MDAs fulfil their functions in the legislative process. These include; lack of coordination between different MDAs, information gathering especially where the information is not documented, unclear and incomplete drafting instructions and limited resources in terms of funding, human resources and working tools.
He also observed that the topics were carefully selected to address the identified challenges. He concluded his remarks by wishing participants fruitful deliberations, and declared the Workshop open.
The participants, who were mainly Commissioners and Policy Analysts, were taken through the following topics: Drafting Cabinet Memoranda, the Concept of Regulatory Best Practices and the Legislative Drafting Process in Uganda.
The second day mainly focused on teaching the participants the Mandate of the Office of the General Counsel in Parliament and its relationship with FPC, how to draft ordinances, Bye Laws and Statutory Instruments, and the role of Uganda Law Reform commission in the legislative process. The sessions where interactive and interesting.
The closing remarks were presented by Ms Irene Lugayizi, Commissioner Legal drafting, – Subsidiary Legislation, on behalf of the Solicitor General. She thanked the participants for accepting and honouring the invitation to the workshop, and for making it a success.