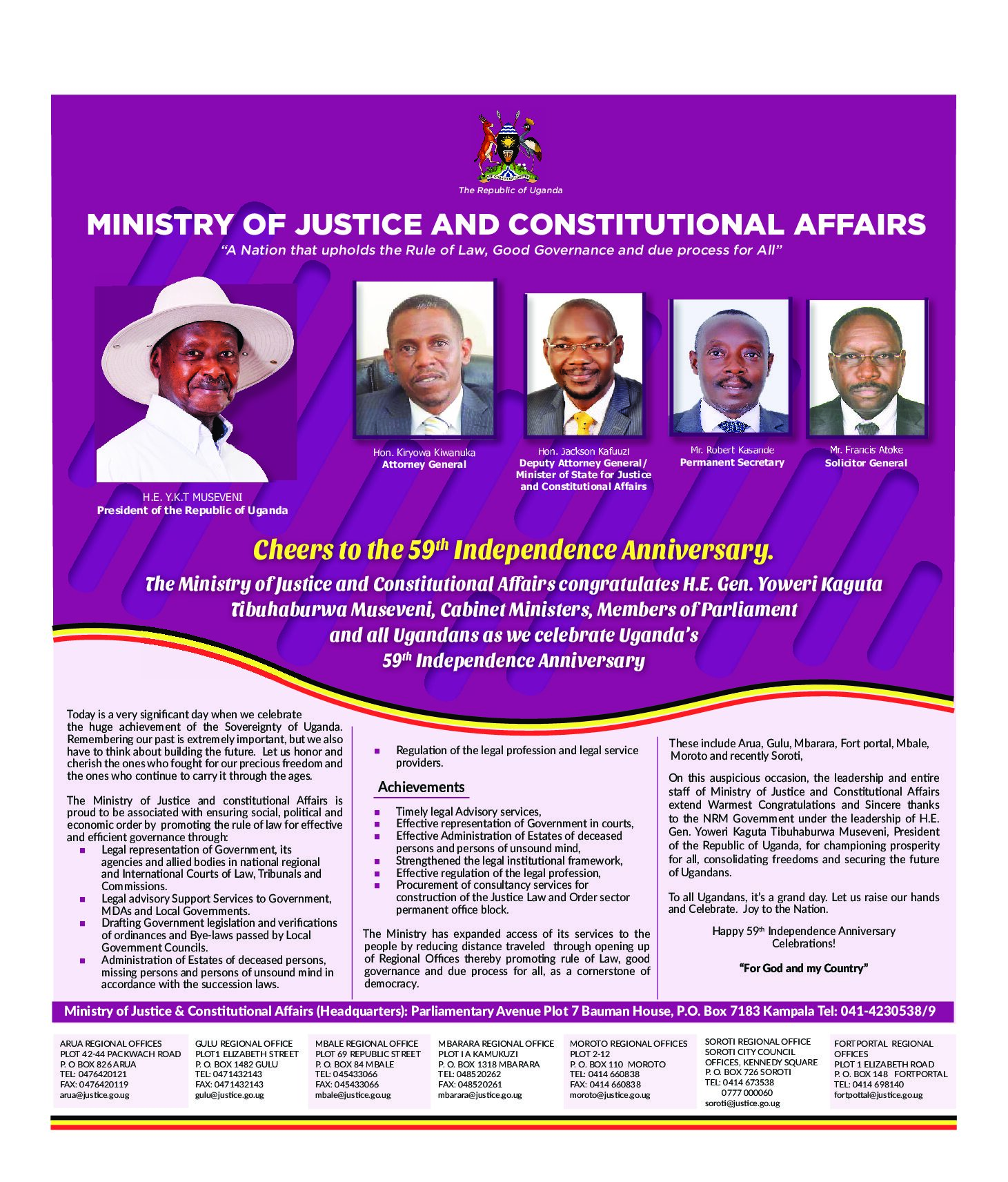 Cheers to the 59th Independence Anniversary
Today is a very significant day when we celebrate the huge achievement of the Sovereignty of Uganda.
Remembering our past is extremely important, but we also have to think about building the future. Let us honor and cherish the ones who fought for our precious freedom and the ones who continue to carry it through the ages.
The Ministry of Justice and constitutional Affairs is proud to be associated with ensuring social, political and economic order by promoting the rule of law for effective and efficient governance through:
1.Legal representation of Government, its agencies and allied bodies in national regional and International Courts of Law, Tribunals and Commissions.
2.Legal advisory Support Services to Government, MDAs and Local Governments.
3.Drafting Government legislation and verifications of ordinances and Bye-laws passed by Local Government Councils.
4.Administration of Estates of deceased persons, missing persons and persons of unsound mind in accordance with the succession laws.
5.Regulation of the legal profession and legal service providers.
Achievements
1.Timely legal Advisory services,
2.Effective representation of Government in courts,
3.Effective Administration of Estates of deceased persons and persons of unsound mind,
4.Strengthened the legal institutional framework,
5.Effective regulation of the legal profession,
6.Procurement of consultancy services for construction of the Justice Law and Order sector
permanent office block.
The Ministry has expanded access of its services to the people by reducing distance traveled through opening up of Regional Offices thereby promoting rule of Law, good governance and due process for all, as a cornerstone of democracy.
These include Arua, Gulu, Mbarara, Fort portal, Mbale, Moroto and recently Soroti , On this auspicious occasion, the leadership and enti re staff of Ministry of Justice and Constitutional Affairs extend Warmest Congratulations and Sincere thanks to the NRM Government under the leadership of H.E.
Gen. Yoweri Kaguta Tibuhaburwa Museveni, President of the Republic of Uganda, for championing prosperity for all, consolidating freedoms and securing the future of Ugandans.
To all Ugandans, it's a grand day. Let us raise our hands and Celebrate. Joy to the Nation.
Happy 59th Independence Anniversary Celebrations!
"For God and my Country"