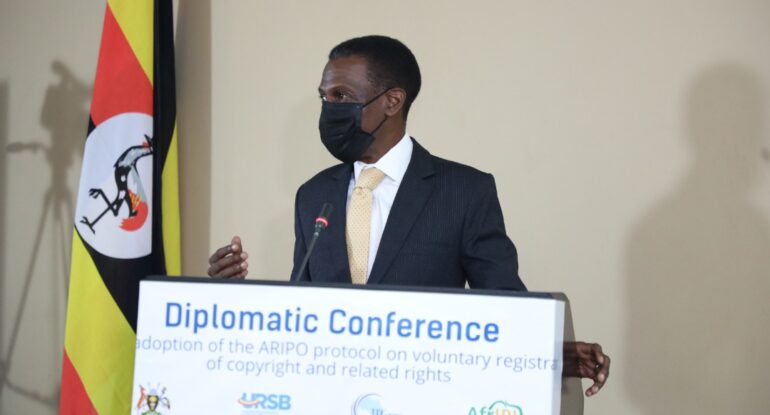 ATTORNEY GENERAL OPENS UP EXPEERTS SESSION AT THE DIPLOMATIC CONFERENCE ON THE ADOPTION OF A COPYRIGHT PROTOCOL HELD AT SPEKE RESORT MUNYONYO.
The Attorney General (AG) of Uganda, the Hon Kiryowa Kiwanuka, officially opened up, as Guest of Honour, the expert's session at the diplomatic conference on the adoption of an African Regional Intellectual Property Organisation (ARIPO) protocol on voluntary registration of copyright and related rights.  The conference which begun on Friday the 20th of August, is being held at Speke Resort Munyonyo and shall run up to Saturday the 28th of August.  Many dignitaries from the ARIPO member states have the graced the occasion physically, while others have been following proceedings Virtually.
In his speech, the Hon AG thanked the organising team, led by the Uganda Registration Services Bureau (URSB) chief, the Registrar General, and her entire team for a well organised conference.  He noted the fact that the country had recently just launched the National Intellectual Property Policy and said the country was on the right track.
"As most of us know, Copyright is a right granted to authors and owners of literary, musical and artistic works, among others such as software. The protection granted under copyright is for the lifetime of the author and 50years after their death. The nature of copyright protection is not dependent on registration, but rather is automatic upon publishing of the work. As such, registration of copyright works is a rare practice amongst authors and owners of the same not only due to the lack of knowledge in this area, but the laxity from authors to register already protected work." He added.
He concluded his speech by thanking all the participants, and wishing them fruitful deliberations during their time of stay in Uganda.